The updated RootsMagic 7 wrapper for MacOS Big Sur has arrived. The same wrapper can be used with previous MacOS versions. Please follow the instructions below to completely uninstall the old version of RootsMagic including the previous CrossOver wrapper.
Complete uninstall of RootsMagic 7 and CrossOver wrapper:
Make sure you have a backup of any RootsMagic data files
Delete any and all RootsMagic .dmg files from your computer
Drag and drop the RootsMagic application icon to your trash bin
In Finder, select Go > Go to Folder
Type ~/Library/Application Support
Drag the folder labeled "RootsMagic" to the trash bin
Go to ~/Library/Preferences and delete the file called com.rootsmagic.rootsmagic.plist
Drag and drop the RootsMagic 7 shortcut icon on the Dock to your trash bin
Download and install the latest wrapper at - http://files.rootsmagic.com/RootsMagic-7-Mac.dmg
This will completely uninstall RootsMagic for Mac "and" the older Crossover programming as well.
RootsMagicTV video: How to completely uninstall and reinstall RootsMagic on a Mac
http://www.youtube.com/watch?v=525ok4GFqY4
If you see an Apple Security message like this...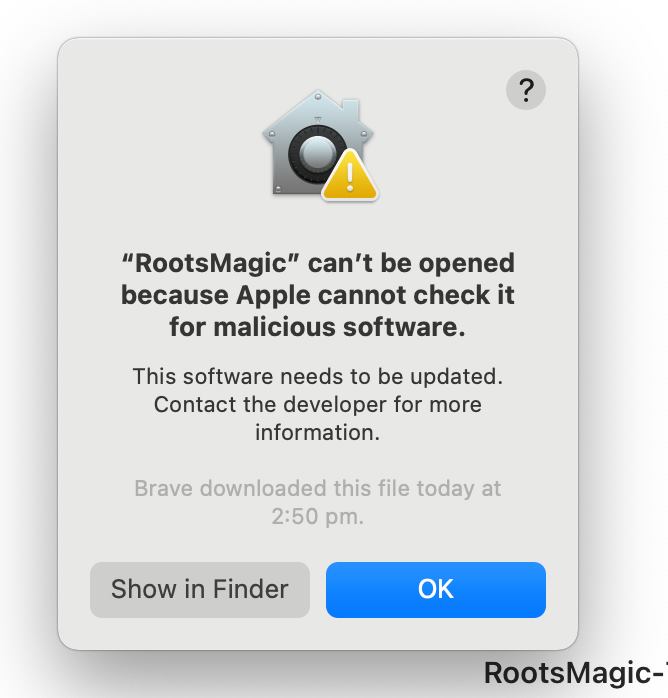 Follow these steps:
Click on System Preferences
Select Security and Privacy
Select General at the top of the screen
Select the option to open anyway
If this does not work you may need to click on the small Gold Lock and enter your Mac password. Then go back into the General tab to see if there is another option that you can select.
Additional Steps if Needed:
https://support.apple.com/guide/mac-help/open-a-mac-app-from-an-unidentified-developer-mh40616/mac
Note: Some antivirus software could give a false positive error on installation. If you experience this disable your antivirus software for the install. You can read more about this issue from Codeweavers here - https://www.codeweavers.com/support/forums/general/?t=27;msg=222870
If you receive a "Wine Gecko Installer" message while using RootsMagic 7, click on Install. Wine Gecko needs to be installed on the Mac if not already there.