To properly install PDFWriter use the following instructions:
Install a Mac compatible PDF printer application called PDFWriter by downloading its DMG file and installing like any other application: http://sourceforge.net/projects/pdfwriterformac/
After it installs nothing will appear.
From the apple logo (upper right corner of your screen) select System Preferences / Printers & Scanners. Click on the "+" below your list of current printers, select Add printer / scanner. Select PDFwriter.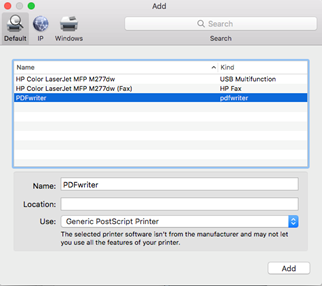 Select the Use drop-down selection, and select Other (you do not want to use the Generic PostScript Printer driver).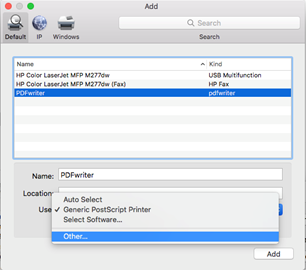 Navigate to the PDFwriter.ppd file: So not select the Library folder directly as seen in this screen capture as your display may be different. Select the local hard drive (in this case Macintosh HD), Library, Printers, Lisanet, PDFwriter, PDFwriter.ppd. Select Open.

Select Add to add your new printer driver.
When you are in Publisher select Print, select your new PDFwriter printer. The resulting PDF file will be stored under Users, Shared, PDFwriter, [logged in user name].