The RootsMagic WebHints for Findmypast currently only points to the US .com site. If you have an international subscription to Findmypast, you may receive an error message when a record collection is not accessible at that URL. UK users need to manually change the browser URL from .com to .co.uk. Hit enter and reload the page to view the records.
This change can be automated by installing a browser plug-in or add-on.
For Chrome users, install "Switcheroo Redirector" from the Google Chrome Store.

Once added it will appear like this...

For Mozilla Firefox users, install the "Redirector" add-on.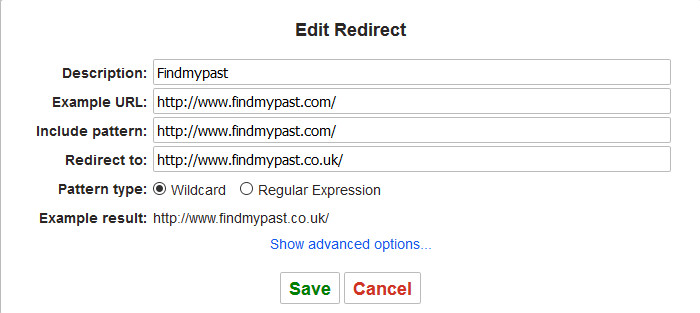 The examples above are for redirecting to the UK site. Change the redirect to match your subscription's URL. Once the redirect is setup, the WebHints will launch the default browser and automatically redirect you to the correct domain for your subscription.